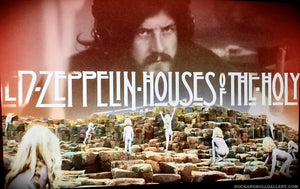 Led Zeppelin is considered one of the greatest rock bands of all time, and their 1973 concert tour in support of their album "Houses Of The Holy" solidified their status as rock gods. This tour, which was one of the most successful and profitable of all time, saw Led Zeppelin conquer the concert touring world in a way that had never been done before. Rock and Roll Gallery wants to revisit this for a minute and show some of the classic pictures taken on this tour that we have on our site for show and sale. Led Zeppelin had cemented...
---
When it comes to legendary rock bands, Led Zeppelin stands among the greatest of all time. And while the band's members all contributed to its incredible success, there's one man who stands out as the driving force behind its iconic sound: drummer John Bonham. In honor of Bonham's incredible talent and lasting impact on music, Rock and Roll Gallery is proud to have an exclusive sale on a rare studio photo session from May 1969 during the recording of Led Zeppelin's second album, captured by the legendary photographer Chuck Boyd. This photography session at Hollywood's Mystic Studio is one of...
---
After 50 years, Led Zeppelin finally put together the official book!
---
Rock and Roll Gallery is proud to have been a part of this rare gathering of prints and super talented photographers!!!! --------- The second collection of official Jimmy Page Fine Art Photographic Prints, a unique collaboration between Jimmy Page and five legendary photographers who have captured iconic images throughout his career. shop.jimmypage.com